Summary
The US restaurant industry is incredibly huge and enterprise restaurants face many complications.
Olo offers a strong value proposition for restaurants.
OLO's key differentiating factor is its ability to integrate.
Thesis highlight
Olo (NYSE:OLO) has a limited upside of ~10%. Olo is a platform that helps restaurants improve their online ordering and delivery operations and better connect with their customers. The US restaurant industry, worth around $700 billion, is experiencing rapid change due to the COVID-19 pandemic and the increasing demand for on-demand commerce solutions. Enterprise restaurants in particular are expanding their market share by adopting these solutions at scale. Olo offers several modules to help restaurants streamline their operations and improve their customer experience. All in all, Olo has a strong track record of partnerships with major enterprise brands and is well-positioned to capture a significant share of the rapidly growing on-demand restaurant market.
Company overview
The OLO platform is the engine that drives the online ordering and delivery operations of various restaurant brands, allowing them to better connect with their patrons. It facilitates on-demand business operations for the eatery by allowing for digital ordering and delivery.
The US restaurant industry is incredibly huge
As a result of COVID-19's altered business climate, the ~$700 billion restaurant space is experiencing a period of rapid change. In the restaurant industry, enterprise restaurant brands in particular are rapidly expanding their market share by deploying on-demand commerce solutions at a scale that allows them to outperform many SMB restaurants. Consumers, looking for more ease and customization in their dining experiences, will likely keep pushing restaurants to invest in digital solutions.
Complications faced by US enterprise restaurants
The restaurant industry is becoming increasingly competitive as well-known chains, up-and-coming independent eateries, food delivery services, and even "ghost kitchens" with their own proprietary digital systems enter the market. Because of this, it can be hard for some eateries to build a steady clientele. Furthermore, there is a growing trend of aggregators demanding a cut of restaurant chains' earnings. Now more than ever, it is crucial for eating establishments to adopt low-priced digital solutions to sustain their operations, grow their profit margins, and attract new customers.
Consumers in the modern on-demand economy anticipate being able to do so. COVID has accelerated the shift in consumer demand for flexible on-demand commerce. I expect these tendencies to speed up even more, especially in the restaurant business, as new technologies enable eateries to lower barriers to entry for online ordering and delivery, thus better catering to customers' evolving expectations for how they wish to interact with brands.
Olo value proposition
Olo helps restaurants function in the digital age by simplifying operations and giving them more direct access to customers.
Although I find value in all of OLO's offerings, I am particularly intrigued by and believe the most value is generated by the Dispatch business.
Order
The Order module is a unified system for handling orders, payments, and menus in a food service establishment. Orders from any channel can be received and transmitted in real time thanks to its seamless integration with the POS and kitchen display systems. Because of this, the wait staff at the restaurant can efficiently take orders and give customers reliable time frames for when their meals will be ready. By reducing the possibility of orders getting lost or skipped in the queue, the Order module boosts operational efficiency and, in turn, the customer experience. In addition, with a central database, eateries can easily control and update their menus from a centralized control panel, saving time and effort for all involved.
Rails
The restaurant industry can benefit from the Rails module's streamlined order management. It eliminates the need for multiple order tablets by syncing orders with the restaurant's point-of-sale system. It also allows restaurants to optimize and serve customers more efficiently by monitoring and processing orders from multiple channels at once. When it comes to peak hours, the Rails module prioritizes various ordering channels to increase yield and revenue. In addition, it provides a centralized location from which restaurants can control their menus on various external platforms, with all menu changes being synchronized instantly. Moreover, Rails enables eating establishments to fill orders via non-marketplace digital channels (e.g. Google Food's ordering system.)
Dispatch
Dispatch connects restaurants with a network of logistics providers that deliver food when they're needed. The module does its magic by letting eateries pick the optimal delivery service provider [DSP] for each order based on a customized list of criteria. This ensures that restaurants can provide delivery at an affordable price and within the time frame expected by customers. Additionally, Dispatch has complete POS integration for the restaurant industry. The chosen DSP will be marked as such on each order placed. In addition, the Dispatch module incorporates all associated DSPs, which are then operationalized on a unified dashboard for the restaurants to manage as a whole.
Olo differentiating factor
The most difficult part of Olo's business is probably integrating with its restaurant partners. Since Olo has to accommodate unique systems in each restaurant and territory, the process of integrating with enterprise partners can be time-consuming. Most competitors in the industry offer vertically integrated but low integration models, selling point-of-sale systems that connect with delivery vendors but are not compatible with legacy systems. These solutions are often more suitable for newer restaurants and smaller chains, where the level of integration required is lower. Managing digital orders with legacy systems can be difficult, which is why many competitors in the industry take this approach.
Olo's Dispatch module is a unique offering that sets it apart from other companies in the industry and has the potential to attract new customers. By providing white-label delivery to its partners, Olo allows restaurants to fully control the customer experience through their own branded app, a key step in achieving full digital transformation. It is important for digital solutions for restaurants to offer a white-label delivery option, as it enables them to differentiate themselves from DSPs. Despite the ease of forming partnerships with white-label vendors, Olo's offering is difficult to replicate due to its national scale and access to the largest courier liquidity pool, making it the preferred delivery service for many restaurants due to its combination of low costs and high-quality service. Competitors would have to invest significant time and resources to replicate Olo's Dispatch module, while Olo would continue to capture more market share, making it harder for new players to enter the market.
Olo pay on track
Olo Pay has generated $2 million in revenue so far and is expected to generate $5 million this year. The company reports that the introduction of Borderless features has resulted in 2.5 times as many customers saving their payment details as before. While Olo Pay has not yet had a significant impact on earnings, management has emphasized the potential for a 25x increase in ARPU by increasing the share of digital transactions and the use of Olo Pay.
In my opinion, Olo should prioritize expanding its platform's sales across its core modules (Dispatch, Rails, and Ordering) and newer modules like Customer Engagement before Olo pay becomes a significant contributor.
3Q22 performance good but further monitoring is needed
Olo's metrics for 3Q22 were just above forecast. Sales came in at $47.3 million, up 1% over projections, and EBIT increased to $3 million from $2 million. EBIT of $2.6 to $3 million, up from $2.0 million, and revenue of $48.2 to $48.7 million are projected for the fourth quarter, both in line with consensus.
Management has noted that sales cycles are getting longer, but that QSR consumer spending as a whole is defendable, and pipeline development is solid. Overall, I believe here will continue to be demand for the use of Olo automation solutions in restaurants due to the persistent operational pressures in the industry.
Although 3Q22 results were encouraging, I feel we need to keep a careful eye on unit economics and profitability before we can reliably predict OLO. In a major way, Olo Pay affects revenue per location. As mentioned above , management mentioned that Olo Pay has produced $2 million in revenue to date and is on target to generate $5 million for the year. This confidence is great, but I believe we need to see further results before confirming the trend.
With respect to profits, Olo's forecast suggests that 2H23 EBIT margins will be somewhat higher than 1H23; this is fantastic, as it shows sequential improvement. In spite of Olo's favorable CLTV/CAC ratio, I'm on the lookout for a means of achieving a more notable inflection in margins.
Financials
At its most basic, the OLO revenue algorithm is as follows: number of locations x revenue per location.
The number of locations equals the number of stores (i.e., 100 stores under a single restaurant brand is counted as 100 locations)
Revenue per location = total revenue generated by platform and service revenue.
OLO has historically grown rapidly due to both location and ARPU additions. However, as OLO has increasingly saturated its key markets (top enterprise restaurant brands), I anticipate that convincing remaining enterprise brands to switch to OLO will become increasingly difficult. The reason for this is that many of these companies are likely to already have their own in-house tech stack (McDonald's (MCD) is a key example, and Subway churning from OLO recently is also a prime example).
Because OLO's primary value proposition is in integration (as previously mentioned), the value proposition diminishes as it moves downmarket to smaller brands with few franchise units.
As a result, the emphasis is on OLO increasing ARPU, which is where OLO Pay comes in. While management is confident that OLO Pay will succeed, I prefer to wait for more confirmation.
Valuation
My model suggests a price target of $6.82 in FY23, representing a 10% upside.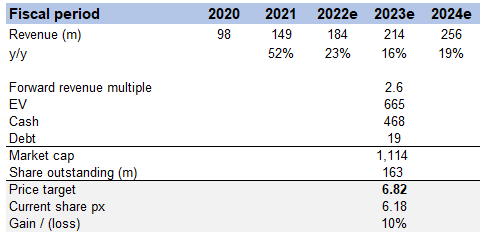 Given the strong secular trend for digitization in the restaurant space, I believe OLO will be able to grow over time by acquiring more restaurant brands and increasing its revenue per location (via price increases and/or new product adoption), all of which will strengthen its market position.
The stock price and valuation of OLO have been decimated for a variety of reasons, including the loss of the subway franchise, weak investor sentiment, and a reduction in guidance. I expect OLO to generate significant free cash flow in the future, but given the dramatic shift in the valuation paradigm, I don't see any catalysts causing its valuation multiple to return to its long-term mean. As a result, I believe OLO will remain within its current trading range in the near term.
Risks
In-house development competitive threat
Olo is in an advantageous position due to the complexities associated with restaurant brands and franchises. Brands may rethink building their own digital ordering systems if they have to pay Olo a higher fee.
Smaller players moving upmarket
Companies like Toast, who provide point-of-sale systems, are looking to branch out into related industries, such as food delivery. Despite the apparent impossibility of the situation, this is not an out of the question possibility.
Conclusion
I believe OLO offers a compelling value proposition to its target audience of restaurants. However, the stock is less appealing due to a lack of near-term catalysts to drive up valuations, a long lead time for OLO pay to be a meaningful contributor, and slowing expected growth. Before going long, I believe investors should wait for a lower stock price.