A Prudential Pulse survey finds large percentages of millennials, gen Z and women struggle with finances. The result is more gig work…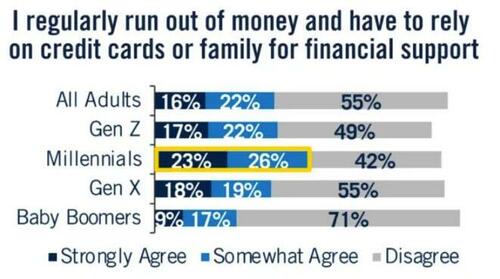 Nearly half of millennials agree or somewhat agree with the statement "I regularly run out of money and have to rely on credit cards or family for financial support."
Please consider Generational Gap Grows: Work & Money Outlook Divided
Job Hopping to Increase Pay or Better Work Balance
Younger generations continue to drive the Great Resignation: One-third of millennials and 46% of Gen Z have switched employers since the start of the pandemic — a stark contrast compared to 29% of all workers.
Job-hopping for paycheck-bumping: Younger generations are more likely to say that the best way to increase their earning potential is to change employers every few years, with 41% of millennial workers and 44% of Gen Z workers expressing this belief, compared to 36% of all workers.
Younger generations look to employers for help: Almost 6 in 10 Gen Z (58%) and millennial (57%) workers believe their employer has a responsibility to help them feel more financially empowered.
Flexibility strong against the dollar: Conversely, over the past year, 29% of millennials who switched jobs took a pay cut, with more than 1 in 4 millennials who took a pay cut explaining they did so in order to achieve a better work/life balance.
Debt and Financial Goals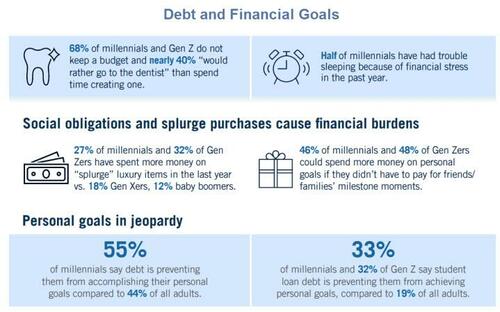 Gig Work to Make Ends Meet
Salary not sufficing: 49% of millennials and 48% of Gen Z don't believe that a salary is going to be enough to achieve their financial goals.
Growth in gig work: 70% of all workers have pursued or considered pursuing gig work to supplement their income over the past year. This is even higher among Gen Z (81%) and millennials (77%) — roughly a quarter of whom hope that their gig work will one day be their full-time job.
Gig work seen as a temporary option: Most workers who are considering or are pursuing gig work (34%) say they are only doing it until their main source of income can fully sustain their financial needs.
Dipping Into Emergency Funds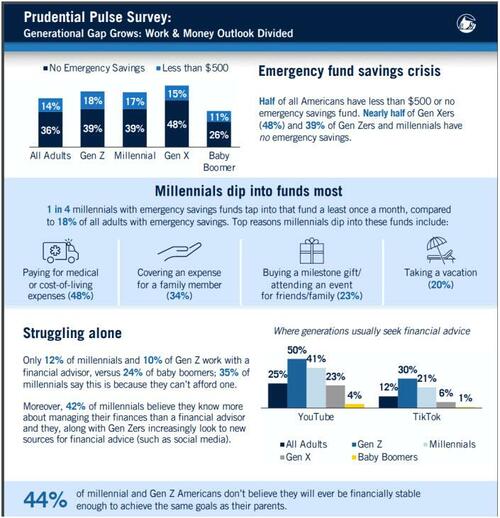 Need Financial Help
Looking to others for financial help: Half of millennials say they regularly run out of money and have to rely on credit cards or family for financial support, and 65% of millennials and Gen Z have received financial support in the past two years from either parents, significant others, relatives or grandparents.
Emergency savings funds in crisis: 50% of all respondents have less than $500 or no emergency savings fund. Nearly 4 in 10 (39%) of both millennials and Gen Z report having no emergency savings at all.
Debt taking a toll: 55% of millennials say that debt is preventing them from accomplishing personal goals, such as owning a home and having kids; 33% of millennials and 32% of Gen Z say student loan debt is a barrier to accomplishing those personal goals.
Social obligations turn financial burden: 46% of millennials and 48% of Gen Z say they'd be able to spend more on personal goals if they did not have to spend on friends' and family members' life milestones like wedding gifts, baby gifts, or milestone birthday celebrations and gifts.
Not keeping a budget or prioritizing investing: Nearly 70% of millennials and Gen Z do not keep a formal budget; 44% of Gen Z and 38% of millennials do not invest.
More Female Stress
A shaky situation: 4 in 10 women (41%) strongly agree that the economic environment has made them more concerned about their financial security (compared to 34% of men). Alarmingly, only 56% of all women have an emergency savings account (compared to 73% of men).
Income is stretched: More than half of women (53%) say they cannot afford their current lifestyle or are barely getting by — just 40% of men say the same.
Feeling the stress: More than one-third of women (36%) report experiencing health or mental health issues as a result of financial stress (versus 28% of men). More than 4 in 10 women (45%) say they have trouble sleeping for the same reason (versus 36% of men).
Gig Work Stunner
The stunner to me was the growth in gig work. Many want to work less but are working more because they have to.
81% of zoomers and 77% of millennials have pursued or considered pursuing gig work to supplement their income over the past year.
Undoubtedly, it's not just gig work but rather any part-time work, especially the leisure and hospitality sector.
Act Your Wage
Yesterday I noted Act Your Wage is the New Meme as Career Ambitions Plunge
There's no time to do extra unpaid work when you need a second part-time job just to pay the bills.
This also explains Quiet Quitting, Are You Doing Only What's Necessary at Work and No More?
Sentiment is pessimistic and many zoomers are flat out giving up on the American dream of owning a home.
I am going to gather some data from the BLS this week to tie some of these ideas together.