Summary
The COVID pandemic has been a significant help to OLO.
The era of easy growth has ended and future business expansion is expected to be more challenging. The recent exit of Subway has raised some warning signs.
The near-term 100x growth target proposed by OLO appears to be overly promotional and unattainable.
For investors who have faith in a fully digital future in the US food industry, this stock could still be a worthwhile investment.
Olo Inc. (NYSE:OLO) offers restaurant brands the ability to leverage on-demand digital commerce solutions, ranging from digital ordering and delivery to front-of-house management and payments. With an open SaaS platform consisting of 14 modules, including the widely used OLO ordering module, rails module, and dispatch module, OLO provides comprehensive support for restaurant operations. However, like many other technology companies, OLO's stock price has suffered from overvaluation in the past. While I believe OLO will continue to thrive in the digital restaurant space, I do not anticipate it will achieve the same explosive growth it experienced during the COVID-19 pandemic. In the following paragraphs, I will elaborate on my thoughts.
OLO has already gained a large scale in its digital business
Olo experienced significant growth and benefited during the COVID-19 pandemic, as the pandemic led to a surge in demand for digital ordering and delivery services. Currently, OLO has grown its business to more than 600 restaurants representing 87k locations. Basically, OLO is the go-to system of lots of digital orders for enterprise-grade restaurants nowadays with Brands like Five Guys, Applebee's, IHOP, Five Guys, Hooters, Taco Johns, and others. OLO got their piece of revenue from the sales from deliveries such ad DoorDash, Uber Eats, and others. Right now, I don't think there is any other competitors have the scale, the breath of product offerings, and the customer reach as OLO. Overall, OLO could be a strong platform business with monopoly qualities if the restaurant services and payments go fully digital.
There's no good showing from Subway leaving
OLO's performance in Q4 of 2022 was not bad, with a 25% year-over-year increase in revenue to $49.8M and a 10% year-over-year increase in gross profit to $34.5M. Additionally, the average revenue per unit (ARPU) saw a 13% year-over-year increase, reaching approximately $571. The number of active locations at the end of the period also increased by 10% year-over-year to approximately 87,000. Furthermore, the dollar-based net revenue retention (NRR) was approximately 108%.
In 2022, OLO implemented numerous fresh modules and functionalities, notably OLO Pay (which contributed 3M in revenue for the quarter) and the borderless checkout feature. Despite the positive momentum, there have been signs of trouble. A significant setback was the departure of key customer Subway, which had been utilizing OLO's Rails at 20k locations. The Rails enabled the chain to integrate third-party delivery orders into its POS system. However, Subway has opted to connect its system directly to delivery providers such as Uber Eats and DoorDash, indicating that OLO's technology is not indispensable. This development is worrying.
The 100x plan proposed by OLO may be overly optimistic
With 2 trillion dollars in expenditures, the food industry represents a massive market. OLO, despite only holding a small portion of this market share, has the potential to become a major player. The company's investor presentations outline ambitious growth plans that could result in a 100-fold increase in near-term growth. This caught my eye, and if OLO achieves just 10% of this growth target, it could still yield an impressive return. This actually offers a large margin of safety for growth-oriented investors.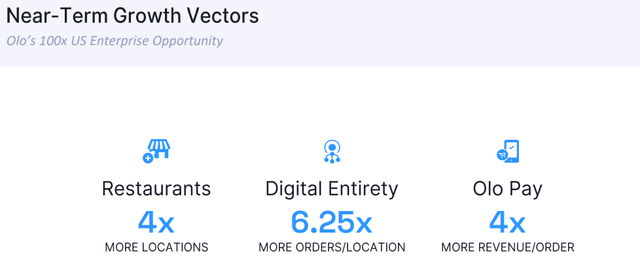 Despite being a promising company, OLO's potential for 100X growth has been overly promoted to investors (this is not listed in their 10k). The rate of expansion has already slowed, with only 6k new locations projected to be added by the end of 2023. This growth rate equates to around 10%, and would take 15 years for OLO to 4x its locations. Furthermore, replicating the restaurant technology itself is not difficult nowadays. Subway's drop of Rails indicates issues with OLO's competency. Increasing competition from new players such as PAR, Qu, Lunchbox, Toast, among others, makes it more challenging for OLO to gain market share moving forward. Nevertheless, OLO Pay could still be a valuable addition given that OLO's board director, Russel Jones, who was formerly the CFO of Shopify, may bring valuable insights to OLO from his experience with Shopify's Shop Pay.
Furthermore, the company has been boasting about its exceptional ability to achieve profitable growth. It is somewhat accurate that OLO has not borrowed much debt and has generated a steady stream of free cash flow since its IPO. I believe the company has no risk of bankruptcy. Nevertheless, OLO has issued a substantial number of shares (530 million since 2021) and implementing stock-based compensation (46 million in 2022) to raise funds. With the prospect of increased investment and competition in the coming years, there is a possibility that OLO's shares may become even more diluted in the future.
Bottom Line
OLO projected a 16% growth of revenue in the range of $213M to $215M for the full year 2023 during the Q4 2022 call. Although I think the company can still grow its business, I believe it already passed its high growth cycle and its product is not as revolutionary as it claims to be. The current EV/Sales ratio of 4.4 looks like a very fair valuation to me. I think OLO has done a great job of promoting its business models, and the market understands OLO very well. Both bear and bull cases are already represented in current price. I don't see huge outperforming gains than SP500 for OLO.
During the Q4 2022 call, OLO forecasted a 16% growth in revenue ranging from $213M to $215M for the full year 2023. While I believe that OLO still has room for growth, I think that it has already passed its peak growth cycle and its product is not as groundbreaking as it claims to be. Based on the current EV/Sales ratio of 4.4, I consider OLO to be fairly valued. The company has effectively promoted its business models, and the market has a good understanding of OLO's prospects. Both bullish and bearish factors are already factored into the current price. I don't anticipate that OLO will outperform the SP500 significantly.