Reports that Gopuff delayed its IPO and laid off more employees are the latest mile markers as the instant delivery category experiences significant challenges over the last year. The company didn't respond to a request for details, but various stories suggest the latest layoffs are part of the 10-percent workforce reduction the Philadelphia-based delivery provider announced in July.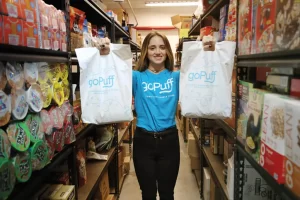 According to Jackie Davalos at Bloomberg, Gopuff laid off "as many as" 250 employees from its customer service staff, including a mix of full-time and temporary employees. Yahoo! Finance's coverage included the detail that the cuts were announced to employees via Zoom.
Regardless of the timing, Gopuff's retrenching is notable after a roughly two-year period that saw the quick rise and many stumbles of other instant grocery and convenience delivery providers including Buyk, Jokr, Getir and Gorillas.
In another recent Bloomberg article, The Fantasy of Instant Delivery Is Imploding, its authors note that "nearly $10 billion of venture capital gushed into the so-called quick commerce companies" like Gopuff and Getir during 2021. That quick expansion brought Gopuff to a $15 billion valuation at the time, a swelling headcount that reached nearly 15,000 employees and calls for a quick public offering to raise even more capital.
"The transition from peak pandemic to a new normal has interrupted the party," the story said. "Once-wary shoppers have returned to stores looking for discounts, inflation is back, and the economy has foundered. The market values of DoorDash Inc. and Uber Technologies Inc., both public companies, have fallen 67 percent and 33 percent, respectively."
The story claimed Gopuff founders Yakir Gola and Rafael Ilishayev were skilled fundraisers who overspent on things like marketing and sponsorships.
"There was little evidence they could operate a global commerce platform growing at lightning speed," the article stated. "After they became multimillionaires, they purchased a Gulfstream jet and mansions five minutes away from each other" in Miami.
While the instant delivery category has likely not seen its last company fail or exit the U.S. market, Gopuff's partnership with Uber and new tie-up with Grubhub boost its chances of finding staying power where some of its contemporaries have failed—especially among younger consumers getting hooked on the convenience of immediate deliveries of convenience items, beer and puff-friendly items like snacks.