Domino's Pizza has introduced a new feature called Pinpoint Delivery that allows customers to receive deliveries nearly anywhere, including parks, baseball fields and beaches. Pinpoint is similar to the Hotspots initiative from 2018 that gave customers the chance to submit their recommendations for non-traditional delivery locations across the U.S.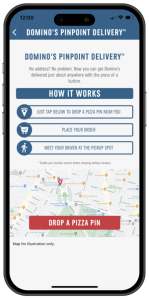 Customers with the Domino's app can now select Pinpoint Delivery where they can drop a pin on the map and get their pizzas delivered almost anywhere.
Pinpoint locations are delivery locations without traditional addresses selected by customers who order online, pre-pay with credit, debit or Domino's gift cards, and agree to receive up to five text notifications that provide updates on their order.
"Domino's is proud to be the first quick-service restaurant brand in the U.S. to deliver food to customers with the drop of a pin," said Christopher Thomas-Moore, Domino's senior vice president—chief digital officer. "We're always striving to make customers' experiences even better and more convenient, and Domino's Pinpoint Delivery does exactly that."
Customers can receive their order at a countless number of dynamically created hyper-local spots without a typical address. Pinpoint Delivery allows customers to track their order with the company's delivery tracker, where they can see their driver's GPS location, view an estimated time of arrival and receive text alerts about their delivery.
Domino's will also alert customers when their "delivery expert" arrives at the pickup spot, at which time they can activate a visual signal on their phone, which will help the driver spot them.
"Delivery innovation is at the core of who we are, so we're thrilled to give customers a new delivery option by allowing them to receive their order nearly anywhere, with the drop of a pin," Thomas-Moore added.