Chomp, an Iowa-based delivery provider that's primarily owned by area restaurants, is celebrating its fifth anniversary in its Iowa City, Coralville and North Liberty markets.
One of a handful of delivery cooperatives across the country, Chomp Delivery was conceived of in the summer of 2017, a few months after Grubhub bought OrderUp. The company said, after that acquisition, Grubhub raised the commission rates it charged restaurants in the Iowa City area.
The delivery provider is the precursor to LoCo Co-Ops, which is also founded in Iowa and was the subject of a recent Food On Demand profile.
Chomp is owned by 23 local restaurant operators invested in creating their own delivery service. George Etre, owner of Formosa and Iowa City Chop House, is the current board chair of Chomp.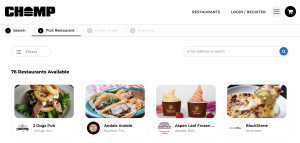 Since its founding, Chomp has grown to deliver for more than 125 restaurants, bringing food to its customers' doorsteps, businesses, and even city parks. It is now averaging 400 orders per day making it one of the largest providers of food delivery services in the area.
In total, over 70,000 local residents have used Chomp for a total of nearly 800,000 orders on sales of over $32,000,000. Additionally, the company says it has saved local food delivery consumers and restaurants over $5,000,000 by charging lower commission rates to its participating restaurants than the national competitors.
Naftaly Stramer, co-owner of Oasis Falafel, said, "The decision to use Chomp exclusively as the delivery solution for Oasis Falafel was a no-brainer. What can be better than a local delivery company owned and operated by local restaurant owners, like Oasis Falafel. Chomp is the community. Chomp works with the community. Chomp employees are from the community. Chomp revenue and profits stays within the community."
Alan Eckhardt, owner of 2Dogs Pub, said, "Chomp was born at a critical time for Iowa City restaurants. We faced a landscape dominated by one player that did not have our interests at heart. Chomp provided a local option that worked to support its restaurants with quality service and honest pricing while keeping money local and giving back to countless community organizations. They were instrumental in keeping our business running during COVID and remain a vital piece of our business today."
Chomp has recently begun discussion to create a new co-op in Cedar Rapids that would be owned by the local Cedar Rapids restaurants.
Jon Sewell, the owner of DP Dough, and treasurer of Chomp LLC, commented, "Independent restaurants around the country are at significant risk. National delivery services charge restaurants a 30 percent commission, don't share their customer data with the restaurant, treat their drivers badly and offer poor service. The solution going forward is to work collaboratively to reduce costs and fight against the national tech services like Grubhub, DoorDash and Uber who take millions of dollars out of our communities and send them to Silicon Valley."